Vinyl Composite Tile Cleaning Services
VCT Cleaning Services
AMS Carpet Cleaners are experienced in a wide variety of floor cleaning services. Whether its carpeting or vinyl composite tile, we have the skills and equipment to clean nearly every floor type. No matter what it is, it gets dirty over time. Whether it be from pet dander or tracked in salt, AMS can remove the dirt and grime that has made your home feel dirty – we can help it feel like new. AMS Carpet Cleaners is driven to deliver the best and stand behind it.
VCT Cleaning with Proven Results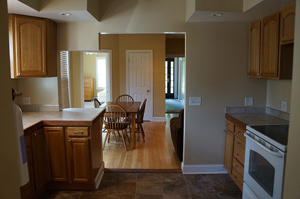 Professional cleaning is the key to keeping vinyl composite tile flooring looking its best. A poor cleaning job, though, will leave your flooring looking only slightlty less dull and grimy. Our family owned carpet cleaning company is highly knowledgable in VCT cleaning processes and the products necessary to restore the look of vinyl composite tile. AMS Carpet Cleaners is the go-to resource for cost-effective commercial or residential vinyl composite tile cleaning services.
Why replace something you can restore for a fraction of the price? Over time salt can leave a permanent stain on your vinyl floor that simple mops can't remove. Clean it with AMS and help your home feel like new. We are well versed in the in removing even the most tenacious stains, without causing damage to vinyl composite tiling.

Benefits of Vinyl Composite Tile Cleaning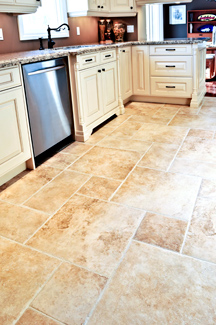 Steam cleaning services from AMS can help your home feel like new. We can remove permanent stains from vinyl, and extend the life of your tiling. AMS can also remove deep pet stains from carpeting, restoring them to their pristine condition. We will extend the life of your tiling or carpeting while making your home feel as fresh as it did when you first moved in.
Jefferson Carpet Cleaners Will be There – Wherever or Whenever You Need Us
AMS is proud to offer our services across southeastern Wisconsin. We'll be there whether you're in Jefferson, Waukesha, Whitewater, Watertown or somewhere in between. AMS is a top rated carpet cleaner and an accredited member of the Better Business Bureau.
When you call AMS you don't need to wait around for when it's convenient for us – we'll be there when it's convenient for you. We operate between 7am and 7pm 7 days a week. We know water damage and pet stains don't sleep – so we don't either. We offer 24-7 emergency service at an additional cost for whenever disaster strikes.
No matter where you are, or what time it is, AMS can be there for you. So whether you need someone to help with emergency water damage, or you just want to make your home feel like new, AMS is here for you – wherever and whenever.
Contact the vinyl composite tile cleaning experts at AMS Carpet Cleaning CALL 920.723.1188 serving Jefferson, Dane, Walworth, Waukesha, Dodge and Western Milwaukee Counties.