Pet Stains and Odor Removal
Why Quick-Fixes for Pet Stains Do Not Work
Your beloved furry family member just decided to leave its mark on your clean carpet. Now what? Before you reach for the stain remover from your cleaning closet, consider these dangers of using such a product. Those chemicals are doing more harm than good. Let the experts at AMS Carpet Cleaning take care of your carpet stain-removing needs. Professional carpet cleaning will shield your home from hazardous cleaner chemicals while kicking the stain to the curb.
Remove Pet Odors Once and For All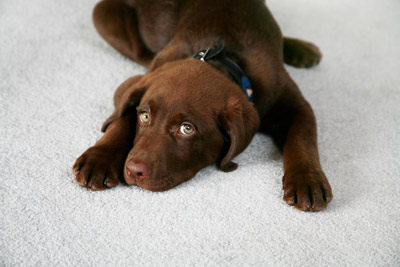 Say you decide to use the chemical spray to remove the stain. While the stain might be "gone", the smell is only masked and will return later. The chemicals from the store-bought cleaner cover up the smell, but once it settles, the fresh smell does not last. You want to remove the stain, let alone rid of the lingering odor. AMS Carpet Cleaning's deodorizing service will completely remove the stain, odor and all. Period.
Make Pet Stains Disappear from High-Traffic Areas
If your pet decides to mess the carpeting in a popular area of the house, chances are the stain will reappear due to it being a high-traffic area. The day-to-day dust and dirt from your family's feet will gravitate towards the place where you initially spread those cleaning chemicals. To avoid this unwanted guest, AMS Carpet Cleaning's experts will permanently remove the stain. Now that's a guaranteed disappearing act!

Residue Will Make Itself at Home
Store-bought carpet cleaners are loaded with all sorts of foreign chemicals. Those substances are known to leave sticky residue behind which is also called re-soiling. The stain itself can also leave a sticky residue. AMS' services make this their #1 priority in customer satisfaction. Stains happen. They pride themselves in taking care of their customers and unwanted messes. The whole point of removing a stain is not having to revisit it in the future.
Optical Illusions Will Get the Best of You
A stain might appear clean when a cleaning agent is applied. The truth is that most cleaners include a chemical that acts like an optical illusion, or a brightener. When you look at the erased stain, the carpet interestingly looks brighter. This can fool the naked eye into thinking the stain has disappeared. The stain magicians at AMS guarantee no tricks or stain illusions. Presto change-o! What you see is what you get.
Chemical Visitors Will Harm Your Family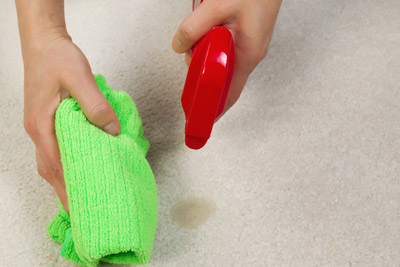 With all of those hard-to-pronounce chemicals listed on the back of the bottle, you have no idea what kind of hazardous agents you just invited into your house. Chemicals like ammonia, sulfuric acid, and phenols can do some serious damage to you, your pet, and family's health. Side effects include burning of the skin, irritation of the eye, respiratory issues, and the list goes on. When you want a clean and safe environment for everyone, get your carpets professionally cleaned by AMS Carpet Cleaning.
Your pet is one of the most important members of your family. When accidents happen, frustration happens. Wisconsin's #1 carpet cleaning business relieves the stress of removing stains and will get your carpet back to looking clean, pristine, and beautiful. We offer a variety of vacuuming, steam cleaning, and deodorizing services throughout Southeastern Wisconsin. Don't wait for the stain to become a permanent resident at your home.
Do yourself and your pet a favor by calling the pet stain removal experts at AMS Carpet Cleaning now!
Return To Carpet Cleaning Tips