Spruce Up Your Carpets for the Holidays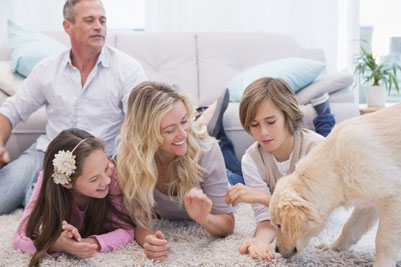 The winter holidays are here again, bringing more guests to your home, more eating and drinking in every room, and more time indoors hiding from winter weather. Deck the halls, and keep things merry and bright with a pre-season carpet cleaning from AMS!
With the windows shut tight, things may not be smelling as fresh as they did in warmer months. With so many festivals and special events taking place in summer, who has time for carpet cleaning? Bare feet and heavy humidity can really take a toll on your carpets, and all the ground-in dirt isn't going anywhere without help.
Now is the perfect time to schedule a carpet cleaning to refresh your rooms and create a healthier, more relaxing environment for your holiday events. When you're hosting, the last thing you want is lingering pollen, dust, or dander in your carpets to trigger unpleasant allergies. Show your friends and loved ones you care by keeping your carpeting soft, clean and inviting this season.

Cleaning Up and Settling Down with a Post-Holiday Carpet Cleaning
As quickly as the holidays come, they've gone. You're left with a fridge full of leftovers, an album full of photos, and probably a stain (or three!) on your carpets. With the fun of socializing and creating memories, spills are sure to happen and chores are sure to get overlooked. Once frost and snow arrive, pets track in moisture and salt from outdoors, and the kids forget they're wearing winter boots until they're halfway across your living room carpet.
Making a mess is a part of life, but you don't have to live with it the rest of the winter! Start your new year off right, and resolve to give yourself the gift of fresh, like-new carpeting underfoot. AMS cleans your carpets thoroughly with no extra charges for stains or high-traffic areas. We're open every day of the week, making it easy to fit a much-needed residential carpet cleaning into your schedule!
Calm Cabin Fever with Cleaner Carpets
Getting through a long Wisconsin winter can be difficult. Grey skies and long stretches of too-cold-to-do-anything weather mean long hours spent indoors. You've probably heard about the importance of getting enough exercise and natural light throughout the winter for your health. It's equally important to keep your indoor spaces clean and fresh. Dirty, cluttered rooms can have a very negative effect on your outlook and energy. So pick up your socks off the floor, and pick up the phone to call AMS Carpet Cleaning today!
We offer great flexibility in scheduling appointments throughout the winter, and you'll be glad you called us. We'll steam clean your upholstery and drapes, clean your carpets, and leave you feeling comfortable and cozy.
Schedule carpet cleaning services with the professionals at AMS Carpet Cleaning Services, serving Jefferson, Walworth, Waukesha, and Dane Counties.
Return To Carpet Cleaning Tips