Oriental Rug Cleaning Services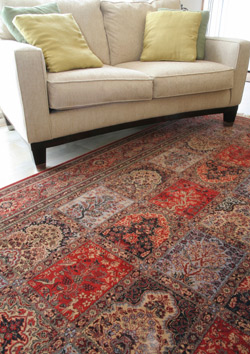 At AMS Carpet Cleaning, we understand the need for unique carpet cleaning services to fulfill your furnishing's manufacturer requirements. Oriental rugs provide a beautiful focal point in any home. To ensure you're oriental rug remains the pride of your home, we offer specialized oriental rug cleaning services from Palmyra to Janesville.
Oriental rugs are works of art as much as they are functional. Protecting your authentic, oriental rug is something AMS Carpet Cleaning values. Many oriental rug owners don't even realize how delicate their rugs are, leading to accidental damage or permanent stains. Repairing an oriental rug is incredibly expensive and difficult. AMS Carpet Cleaning has some advice for oriental rug owners to save money.
Protect Your Oriental Rug
To prevent permanent damage between professional rug cleanings, AMS Carpet Cleaning has tips for oriental rug owners:
Due to how oriental rugs are constructed, avoid walking on the rug while wearing shoes, especially high heels. Too much foot traffic can wear down the rug permanently.
Control your pets around your oriental rug. While it is perfectly fine for your cat or dog to take a nap on your rug, scratching or chewing the rug can destroy it.
Don't over clean your oriental rug. The delicate composition of oriental rugs means intensive, frequent cleaning sessions do more harm than good. To protect your rug, it is best to get professional oriental rug cleaning services from AMS Carpet Cleaning about once a year.
Vacuum your rug regularly, though be cautious around the fringe. Some vacuums are too powerful and can rip the fringe off an oriental rug.
Leaving your carpet in the same position can cause sun damage or color fading on only one section. Rotate your rug or move it somewhere else completely to protect the color from fading.
Water and other liquids can weaken the rug if not dried properly. AMS Carpet Cleaning can help you prevent spills from permanently damaging your oriental rug.
By following these tips, you can enjoy your oriental rug and keep it intact for years to come.

Experience with Oriental Rug Cleaning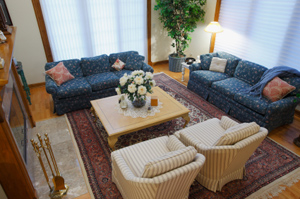 Our carpet cleaners have the years of experience and skill to expertly clean you oriental rug without compromising its integrity. We understand your handmade oriental rug is sensitive to abrasive chemicals, heat, and steam. From Watertown to Oconomowoc, AMS Carpet Cleaners is qualified to remove staining, dust, and dirt from your one of a kind oriental furnishing.
Did you know oriental rugs should be vacuumed on both sides? At AMS Carpet Cleaners, we know the history and best care techniques to maintain your oriental rug and keep it looking like new. Our expert cleaners can give you more advice while giving your oriental rug its annual cleaning.
A Rich History Brought to Your Home
Oriental rugs have existed for thousands of years. Oriental rugs can be made from wool, cotton, or even silk, depending on the origin. Many rugs are still handmade today, which is why they are so valuable and require expert care to maintain. Different rug types and designs require specialized treatment depending on if they use natural or synthetic dye to gain their colors.
Our family owned carpet cleaning company in Jefferson, WI, treats your home carpet and oriental rugs as if they were our own. For superior oriental rug cleaning services from Lake Geneva to Waukesha, come to AMS Carpet Cleaners.
Oriental Rug Cleaning Services from the professionals at AMS Carpet Cleaning CALL 920.723.1188 serving Jefferson, Janesville, Madison, Whitewater, Watertown, and Fort Atkinson.