Oriental Rug Cleaning Services
Professional Oriental Rug Cleaning in Wisconsin
Oriental rugs have the potential to turn a living room into a showroom with every gorgeous handmade detail. The expertly crafted oriental rugs are beautiful investments into the aesthetic of your home. Keep them looking as stunning as the first day with the unique carpet cleaning services at AMS Carpet Cleaning.
Oriental rugs are works of art as much as they are functional. Protecting your authentic, oriental rug is something AMS Carpet Cleaning values. Many oriental rug owners don't even realize how delicate their rugs are, leading to accidental damage or permanent stains. Repairing an oriental rug is incredibly expensive and difficult. AMS Carpet Cleaning works to keep your investment protected and the pride of your home.
Proper Cleaning of Oriental Rugs
The professionals at AMS Carpet Cleaning know the right way to maintain an oriental rug as sensitive and delicate as the one in your living room.
Our experienced cleaners know to avoid steam, chemicals, and heat while servicing your oriental rug: the other guys? Not so much.
The proper protocol for oriental rug cleaning involves vacuuming both sides, and a gentle removal of stains, dust, or dirt so your rug is looking as good as when you got it. Our services extend to upholstery and other furnishing in your home so the entire room looks just as good as that rug.

Expert Service, Quality Experience, Helpful Tips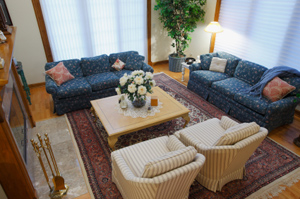 While our professionals have the years of experience to handle just about any oriental rug cleaning job, we know that those quick messes can be taken care of immediately by a homeowner. Below are some helpful tips to keeping your rug impeccable between AMA Carpet Cleaning visits:
Foot traffic damage: Avoid walking on the rug while wearing sharp ended- or heavy soled shoes.
Over cleaning: vacuum cautiously, but let AMS Carpet Cleaners professionally clean your rug
Sun damage: move your rug every few weeks to avoid sun damage and keep those colors vibrant
Water damage: Liquids—even water—can cause permanent damage to your rug if not dried properly, AMS Carpet Cleaning can help you prevent liquid damage.
Our family owned carpet cleaning company in Edgerton, WI, treats your home carpet and oriental rugs as if they were our own. For superior oriental rug cleaning services come to AMS Carpet Cleaners.
Contact AMS Carpet Cleaning for professional oriental rug cleaning in southeast Wisconsin