5 Things You Need To Know When Hiring A Carpet Cleaner
What To Look For in a Carpet Cleaner
Here's a scenario that plays out almost every day: Homeowner moves an area rug to the side a little while vacuuming and discovers the carpet underneath the rug is about 3 shades lighter. "Yikes! How did the carpet get so dirty?" Then comes the realization that a carpet cleaning is in order.
Most people will simply look up carpet cleaners online, see who's offering a special, and give them a call. Or maybe they have a promotional postcard offering a special on carpet cleaning. Unfortunately, there can be big differences in the quality of work carpet cleaners do. Unless you know what to ask, you can easily end up hiring a cleaner who does a shoddy job.
So, here are a few basic things to keep in mind when you're looking for a carpet cleaning service:
1. Look For A Carpet Cleaner Who Actually Knows What He's Doing.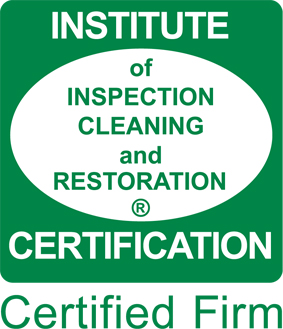 Carpet cleaning may seem simple enough, but there's more to it than there looks. Too often, an amateur ends up botching the job by using a spot cleaner that leaves a mark on the carpet, or by oversaturating the carpet, which leads to mold growth in the padding underneath.
You can avoid this by only hiring a carpet cleaning company whose employees have been certified by the Institute of Inspection, Cleaning, and Restoration Certification, the most highly regarded training school for cleaning and restoration industry professionals.
2. Check Reviews And References
These days, it's easy to look up a business online to see what kind of reviews customers are giving them. Often, the business itself will post testimonials from customers on their website, but you can always find reviews elsewhere, such as AngiesList and Yelp. When in doubt, just Google it.
You can also check around with your friends and neighbors to find out who they've used and whether they did a good job or not.
3. Know What Kind Of Carpet Cleaning Service You're Getting.
There are 5 different steps in carpet cleaning, and all professional carpet cleaners should follow these steps. Often, there may be other services added in the process, such as cleaning pet stains or other stubborn stains. The steps outlined below are per recommendations by the Institute of Inspection, Cleaning and Restoration Certification.
Dry soil removal
Carpets should be thoroughly vacuumed with a high-power vacuum cleaner to remove any loose, dry soil from the carpet. If all the loose dirt isn't removed, wetting the carpet for cleaning is like stirring up mud on the bottom of a stream.
Soil suspension
After vacuuming, a pre-treatment chemical agent is applied to loosen dirt in the carpet's fibers. This is known as soil suspension and it involves four steps: application of chemicals, the application of heat to speed up the action of those chemicals, agitation of the carpet fibers to evenly distribute the chemicals (usually done with a rug shampooer) and finally, letting the chemicals sit in the carpet for a while before extracting them.
Soil extraction
Most carpet cleaners use the hot water extraction method, also known as steam cleaning, to remove the dirt from the carpet. The steam doesn't actually clean the carpet. The steam cleaner sprays a detergent onto your carpet, which is activated by the hot water. Synthetic carpets require an alkaline detergent, while wool or other natural fibers require an acidic detergent. The wet-vac function of the steam cleaner then extracts the water (along with the dirt and cleaning agents) in the carpet.
Grooming
Grooming is simply a raking of the carpet (with a carpet rake, not a lawn rake!). The helps prevent the carpet from getting matted down.
Incidentally, at this stage of the carpet cleaning your carpet cleaners should be wearing protective covers over their shoes. It makes little sense to go through all that cleaning only to walk around on a freshly cleaned, still damp, carpet in dirty shoes.
Drying
After extracting the dirt, your carpet will still be slightly damp. Given normal temperature and humidity levels, it should dry within 24 hours. Given ideal conditions, it will dry in six to eight hours. As much as possible, you'll want to avoid walking on your carpet until it it's fully dry. You can speed up the drying time with fans and by opening windows to get a breeze going through the house (weather permitting).

4. Steam Cleaning vs Dry Cleaning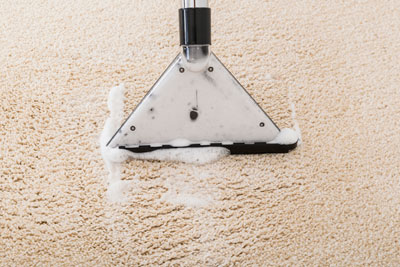 Many homeowners are wowed by the claims of carpet cleaners who offer "dry cleaning" with the promise of no wet carpets. Essentially, this cleaning process involves putting cleaning chemicals down on the carpet, agitating them into the carpet fibers, then removing them with a minimum of moisture.
Notice we said "minimum." Despite the name, these "dry cleaning" carpet cleaners also use water to extract the loosened dirt from your carpet. So, don't be misled by the claims of these "dry" carpet cleaners.
The trouble with chemical cleaning is that it just doesn't clean as thoroughly as steam cleaning does. There's a reason most major carpet manufacturers recommend the hot water extraction method (aka "steam cleaning") for deep cleaning—because it does a superior job of removing deep down dirt and stains from carpet fibers.
Dry carpet cleaning does have its place, however, when time is of the essence, so we offer it as an emergency carpet cleaning service. For instance, if you have an important gathering at your home coming up and suddenly realize your carpets just aren't presentable, a dry carpet cleaning can do a great job of brightening them up without the lengthy drying time required by steam cleaning. The entire cleaning job takes considerably less time, and your carpet will be usable after just 4 hours of drying time.
5. Beware Of Deals That Seem Too Good To Be True.
The old saying "You get what you pay for" most definitely applies to carpet cleaning. Often, less than reputable carpet cleaners will run unbelievable special offers on carpet cleaning. Only after you call and set up an appointment do you find out they charge extra for every little thing normally included in a carpet cleaning. Or they do such a lousy job that your carpet isn't much cleaner than it was before they cleaned it.
Look for a reputable carpet cleaning company with positive reviews from previous customers. It may cost a little more than the "Any 3 rooms for $59.99" specials, but it will be well worth it.
Return To Carpet Cleaning Tips