How to Remove Cat Urine Stains from Carpet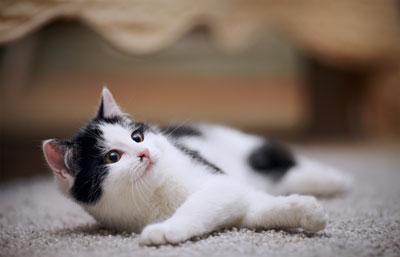 Carpet stains are unavoidable, especially if you have a cat – your furry little feline might just try to make its mark upon your clean carpet. So now what? The experts at AMS Carpet Cleaning assure you this stain does not have to be a permanent addition to your carpet, as long as you follow these helpful tips and guidelines.
For large carpeted areas affected by cat urine, contact our professional carpet cleaners in Jefferson.
Removing Fresh Cat Urine Stains
Be Quick About it! If you are able, try to be quick about cleaning up the stain. A patch of cat urine left in a carpet for too long can crystallize within the fibers, making the odor linger and the discoloration harder to get rid of. Be sure to blot the fresh stain with a paper towel to get as much of the urine out of the carpet as possible.
Rinse with Cold Water. The next course of action would be to immediately rinse it with cold water. Warm water will actually cause the odor-causing bacteria to bond with the fibers in the carpet, making the cat urine smell almost impossible to get rid of. Rinsing the stain several times with cold water and blotting it with a clean cloth should be able to get the stain and urine smell out of your carpet.
Use a Cleaner with Enzymes. The best method of removing the stain would be to use a cleaner with odor-removing enzymes. These chemicals digest microscopic traces of the bacteria in urine which causes odors, allowing the stain to be completely removed from the carpet fibers. Be careful, though – some cleaners may damage or discolor certain types of upholstery, so make sure to use safe chemicals when cleaning cat urine stains out of your carpet.
Stubborn stains? Our Wisconsin carpet cleaners are pros at removing cat urine from carpet. Contact us today!

Removing Old Cat Urine Stains
Locate the Stain. What happens when your cat makes its mark upon your carpet without you even knowing about it? It could be days, or even weeks, before you begin to smell it, and by then the stain has already dried up and disappeared into the fibers of your carpet. The experts at AMS Carpet Cleaning don't want you to worry: an old urine stain in your carpet is not impossible to get rid of. First things first, though – try to locate the source of the urine smell. It may be a bit difficult at first, so it wouldn't hurt to use a black light when trying to locate the old stain.
Use Vinegar. Old cat urine stains are a bit more difficult to get rid of than fresh urine stains, therefore the experts at AMS Carpet Cleaning recommend using more than just water to clean it up. A cleaning solution of 50% vinegar and 50% water can help get rid of the odor-causing bacteria produced by old urine stains, and vinegar can also be a good, eco-friendly alternative to the harsh chemicals found in store-bought cleaners.
Use a Cleaner with Baking Soda and Peroxide. When all else fails, baking soda can be a lifesaver. Household cleaners containing baking soda are generally nontoxic, and can easily eliminate the odor-causing bacteria caused by old cat urine stains. For homemade stain removers, too, you can mix together a half cup of hydrogen peroxide and 1 teaspoon of baking soda.
Lingering smell? Contact the professional carpet cleaners at AMS to eliminate the odor for good.
Our Jefferson carpet cleaners specialize in residential carpet cleaning and pet stain removal. We eliminate unpleasant stains and odors while restoring your carpet to like-new appearance.
Contact the Jefferson carpet cleaners at AMS Carpet Cleaning to remove cat urine from your carpet. Get a free quote today!
Return To Carpet Cleaning Tips